Below is a guest post.  Blinds can be expensive, so anytime you can save money on them you can use it for other purposes!
—————————————————
They can save us significant amounts of money, but get your buying choices wrong and blinds can cost a fortune to start with. Fortunately, compromises can be made and this is the direction this article is going to head in.
We're by no means suggesting that you should go out and buy the cheapest set of blinds. While that particular product might serve a purpose for some homes, you should still look to get as much as you can from your money by shopping around for the features that suit you. Therefore, we've quashed the article into three ways which you can compromise by spending less on your blinds, but still getting plenty of functionality in the process.
Readymade v Made-to-Measure
This will depend on the retailer you opt to purchase for, but a lot are now swaying to the made-to-measure route. This means exactly as the name suggests; with blinds arriving in the dimensions that you set on the buying page. Ultimately, it's much less hassle for you and chances are, the finish will look much better as it's done by the professionals.
Of course, this extra burden on the retailer means that the increased costs are often passed onto the consumer. Cutting blinds to size certainly isn't a hard task – for example, to shrink a set of the typical vertical blinds you'll only need to be armed with a pair of scissors. Therefore, ask yourself if you really need someone else to carry out this step – or if you can bag the savings by doing it yourself.
The faux alternatives
We'd all love to be basking in a house that is comprised of blinds made from natural materials. Wood is usually the material of choice yet unfortunately, this costs a small fortune to install. For a lot of years this was the only option, yet faux materials have now come to the rescue.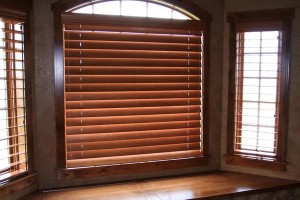 Faux wood blinds, for example, look almost identical to the real material itself. They also hold similar properties; with many believing that they're actually more durable. The big difference is the price, with these blinds arriving at a fraction of the cost. As such, opting for a faux material is one of the quickest ways to slash the overall cost of installing blinds through your home.
Do you really need the new technologies?
There is an awful lot of commotion regarding the new products that have been released in the blinds industry at the moment. This is for good reason; there have been studies that have shown you can save considerable amounts of money by opting for certain types – with insulated shades and solar blinds generally being those products in question.
However, if you are operating on a budget, the question you need to ask is if you really require such inventions. Yes, they can make your life cheaper and easier, but they do cost a lot more than the standard blind.
For example, if you are looking to improve your home's thermal efficiency, a traditional roller or blackout blind will still improve your plight albeit on a much smaller scale. You could combine these cheaper alternatives with drapes to enhance the effect, and still experience some benefits. In other words, you can make the most of some of the cheaper products if you shop shrewdly.