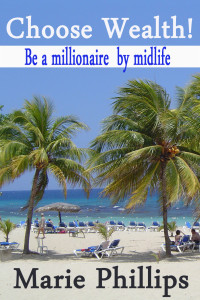 Have you ever wondered how people get rich? Why is it that some folks manage to accumulate significant amounts of wealth while others just scrape by?
Only 1/4 of Americans end up with more than half a million by their 60′s. Will you be one of them? I am.
You don't have to be a best selling author, a rock star musician, a tech guru wizard or a high powered lawyer to be a multimillionaire, you just need time and persistence. Anyone can do it if they know how. YOU can do it if you want it badly enough, learn how and persist. You just have to choose to be wealthy. This book helps you figure out how to choose wealth.
My new book, Choose Wealth!  Be a Millionaire by Midlife, is now available – on Amazon, Barnes and Noble, iTunes  and many other online outlets. I'm so excited to have completed this effort and hope that folks find it helpful in pursuing wealth of every sort, whether financial or other. Continue reading →